Thursday, August 20, 2009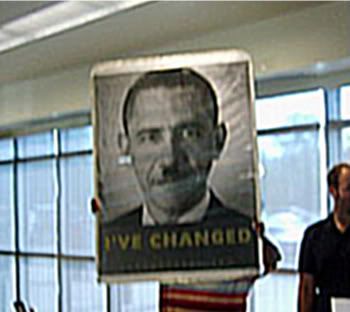 I'd like to take this opportunity to piggyback off of OB's post from earlier this week ("The Party of No, The Party of Lies") which showed that an astonishingly high number of Americans do not believe in basic facts like natural selection, or even heliocentrism , and drew parallels to the outright falsehoods that people in town hall meetings across the country have chosen to believe. I'd like to add that I, too, am astounded at how easily people can be convinced of something that is obviously wrong. Mere months after overwhelming majorities expressed support for health care reform, and even a public option, the public has completely soured after being bombarded with some of the most absurd criticisms of Congress's as-of-yet unfinished health care plan. Not only do a majority of American's now oppose Obama's health care plan, but majorities and near-majorities believe in what I can only describe as utter fabrications concerning said plan. Fabrications that a little bit of research, or even common sense could easily debunk.
Majorities in the poll believe the plans would give health insurance coverage to illegal immigrants; would lead to a government takeover of the health system; and would use taxpayer dollars to pay for women to have abortions — all claims that nonpartisan fact-checkers say are untrue about the legislation that has emerged so far from Congress.

Forty-five percent think the reform proposals would allow the government to make decisions about when to stop providing medical care for the elderly.
(NBC:
Americans still skeptical about Obama's plans
)
You've got to be kidding me. Why would the Democrats be so politically inept that they would add funding for abortions and free health insurance to illegal immigrants? How could anyone believe that's what they were doing? And why would that many people accept at face value the idea that there are "death panels" that would stop covering the elderly? Of course, it doesn't help that the chair of the RNC
won't even refute the claim
.
The elderly already get coverage now. It's called Medicare. I only hear talk about getting rid of Medicare from
Republicans
.
Also important to note is that NBC found that when confronted with the facts about the upcoming health care legislation (namely that there exist no provisions to insure illegal aliens, fund abortions, or kill grandma) respondents warmed to the President's plan. Sam Seder, filling in for Cenk on TYT, puts this into perspective:
--------------------------------------
Update: actually, a new Rasmussen poll paints a
slightly rosier picture
on the Public Option. So does yesterday's Rasmussen poll trump Tuesday's NBC poll? It's times like these that make me really hate polls.
-------------------------------------
More updates: It's come to my attention from one of my commenters that while none of the proposed legislation mandates the funding of abortions, the House and Senate bills allow for the creation of a public plan that could fund abortions. For more info check out Factcheck.org's "
Abortion: Which Side Is Fabricating?
"